Customer Issues & Objectives
When first endeavoring in a new e-commerce business project overseas, you will be dealing with a tight startup schedule and limited resources and funding. Our BPO, based on seasoned knowledge of Taiwan's e-commerce market, provides invaluable collaborations with highly experienced partner companies.
Commitment to core business through full support - from developing an e-commerce site suitable for the customer's commodity, to site building and operations.
Accept orders from various sales points, implementing the PDCA cycles by instituting a CRM system.
Setup and operate a high-quality call center to cultivate new customers into regulars.
A delivery network covering the whole of Taiwan and accurate inventory management using WMS; center operations that ensure accurate inventory management.
Safe and secure international transport between Japan and Taiwan based on various transport modes to prevent parts shortage.
Solutions
Using Taiwan for test marketing in order to cultivate the Chinese market, a fulfillment solution was developed by Nippon Express Taiwan, Shanghai e-Technology and Taiwan Pelican Express, which has an alliance relationship with Nippon Express.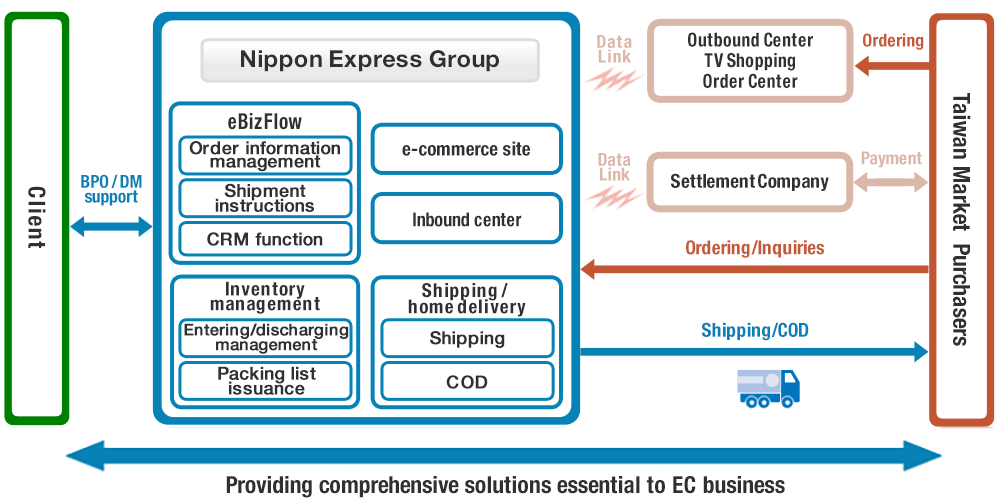 Solution: Key Points
Employ a subcontractor's e-commerce site creation package to support the opening and running of an online shop based on contents prepared by the customer.
Nippon Express Group's Shanghai e-Technology develops an ordering system to respond to e-commerce site and phone orders as well as a CRM system with functions for issuing shipping instructions to warehouse and delivery companies as well as management of purchase history management of individual purchasers. Enables Nippon Express to offer important customer information for use in continued sales promotions targeting current purchasers.
Nippon Express Taiwan sets up and runs contact center for purchaser support, order processing, payment/refund processing, and all sales-related reporting.
Include COD and convenience store payments used by Taiwan Pelican Express (affiliated company), as part of the Taiwan delivery and storage service lineup.
Support for air freight, marine transport, export and import clearance operations, printing of Chinese language labels for the Taiwan market, and all application procedures.
Effects & Merits
Through supply chain visibility, gain a grasp of total parts inventory including in-transit parts, reducing unnecessary inventory.
Achieve high-quality supply chain based on centers in North America and Japan attaining AS9120 certification.
Nippon Express coordination of supply chain leads to consolidation of contact windows to handle all inquiries and provide faster responses.
Outsourcing through the fulfillment program to enable speedy setup of new businesses.
Provide support as a reliable logistics partner based on logistics knowhow gained in Taiwan.
Flexible support for segment input operations, bundling promotional material based on customer attributes and promotions.
Enable clients to concentrate on core business, such as customer analysis and sales strategy formulation.